YOGA IN INDIA: 
17

th

 – 27

th

 

2016 dates coming soon

[tab:OVERVIEW]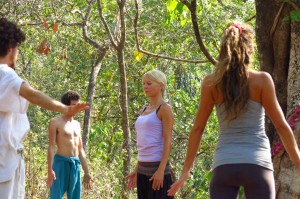 If want to visit India for a yoga holiday, you've found the perfect location. Take your time. Ease your mind. Nurture your soul. Reconnect with your strength and inner wisdom.
Yoga classes are held in a magical forest setting. This spot was especially chosen for its replenishing energy. Whether you're experienced or new to yoga, you'll find practising 'outside' on our spectacular Pyramid Shala a highly rewarding experience – both physically and spiritually.
For further information or to make a booking please contact us by email or telephone, 07812 052 742.
[tab:ABOUT THE FARM]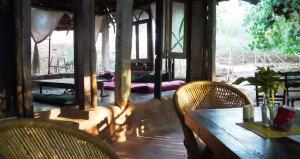 Inspired by the abundance of Mother Earth, the Yoga Farm is set in a lush forest valley. Rather than opposing or suppressing nature we have sought to unify and create harmony with the surrounding landscape.
Relax in a healthy environment, recharge for new projects and try out new activities. The Farm provides a perfect spot to observe monkeys, birds and butterflies and discover tropical nature. The Farm is located in an abundant green valley – with a clear creek – in beautiful South Goa, India.
[tab:ACCOMMODATION]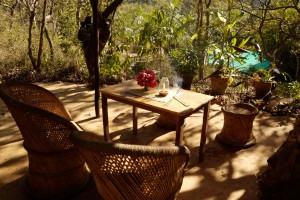 In the upper part of the Farm, we have created five secluded and exclusive rooms. A lush garden surrounds each cabana terrace with abundant greenery, ornamental plants and fruit trees. The bedroom can be completely opened to the outdoors, bringing the sacredness of nature inside. Attached is a spacious, open-air bathroom, tastefully decorated with furniture and various thematic gardens.
To be true to nature all our accommodation has been built with natural materials including bamboo, wood and canvas.
The comfortable rooms are furnished with a double bed, mosquito net, table, chairs and facilities for storing personal belongings. We provide clean sheets, towels, ecological soaps and for the cooler nights warm blankets. The bathrooms come with eco-friendly compost toilets and open-air showers.
[tab:FOOD]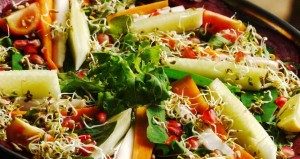 Everything is freshly harvested from the organic farm and lovingly prepared with attention to detail in the restaurant. The focus is on vegetarian, vegan and raw food. Enjoy juicy tropical fruit, crunchy organic vegetables, crisp salads and fragrant herbs while sipping on an energising juice or sweet, colourful herbal tea. First thing there's fresh fruit salad, fresh juice of the day and chai early am, then a buffet vegetarian brunch after yoga and buffet vegetarian dinner in the evening.
[tab:PHOTOS]
[tab:PRICE]
The exquisite lodges have been designed to work in harmony with the natural surroundings. If you have ever dreamt of living in paradise – this is it. Come to be restored and inspired.
Share a treehouse


per person £850pp

Share a deluxe cabana


per person £995pp
Please note flights are not included in these prices.
For further information or to make a booking please contact us by email or telephone, 07812 052 742.