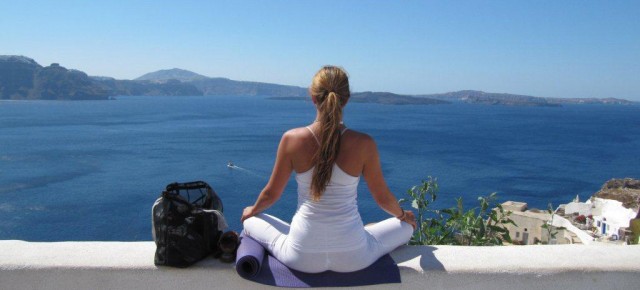 DATES
1st – 8th July 2015
[tab:OVERVIEW]
Our magical yoga retreat in Santorini, Greece, is a popular destination for many. The wonderful heart warming people of Greece, the food and the climate may make this one of our best locations.
We invite you to indulge in first class yoga, sun, sea and the most breathtaking sunsets. We will live in harmony with the elements on the edge of one of the world's largest volcanoes whilst diving into the practice of yoga.
If you have always wanted to try yoga, or go on a yoga retreat, or if you are an experienced yogi globe trotter this week is perfect for you. This is a tailor-made week to please you, giving you a yoga experience of a lifetime!
For further information or to make a booking please contact us by email or telephone, 07812 052 742.
[tab:LOCATION]
The retreat is held at the stunning Hotel Pelagos, set at the bottom of the hillside in this magical volcanic island, just outside the very beautiful village of Oia.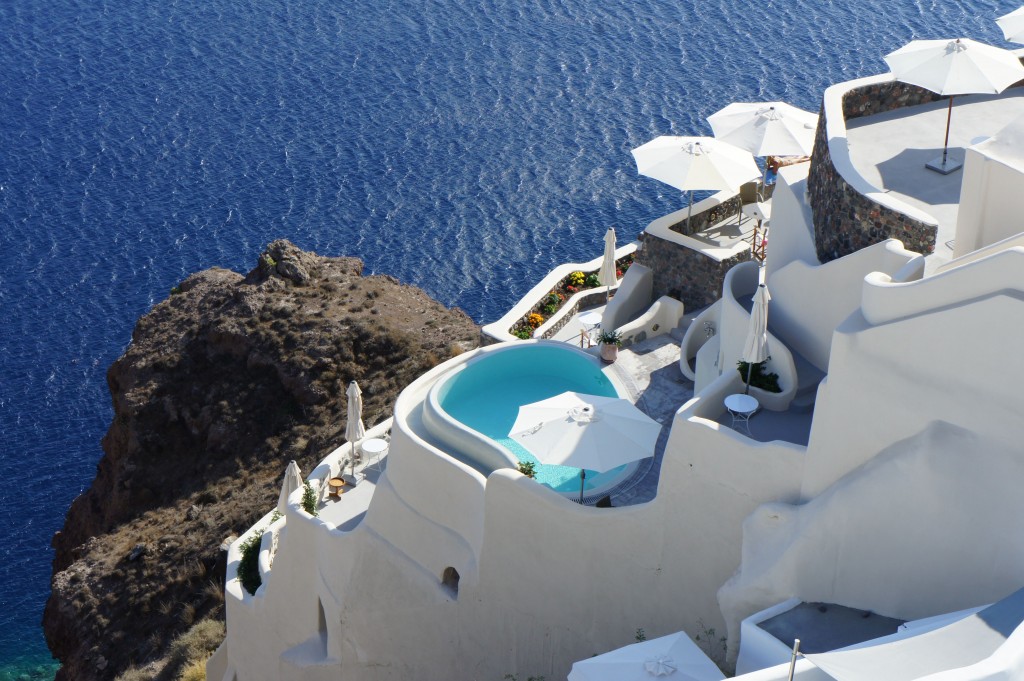 You can see a video here:
[tab:ACCOMMODATION]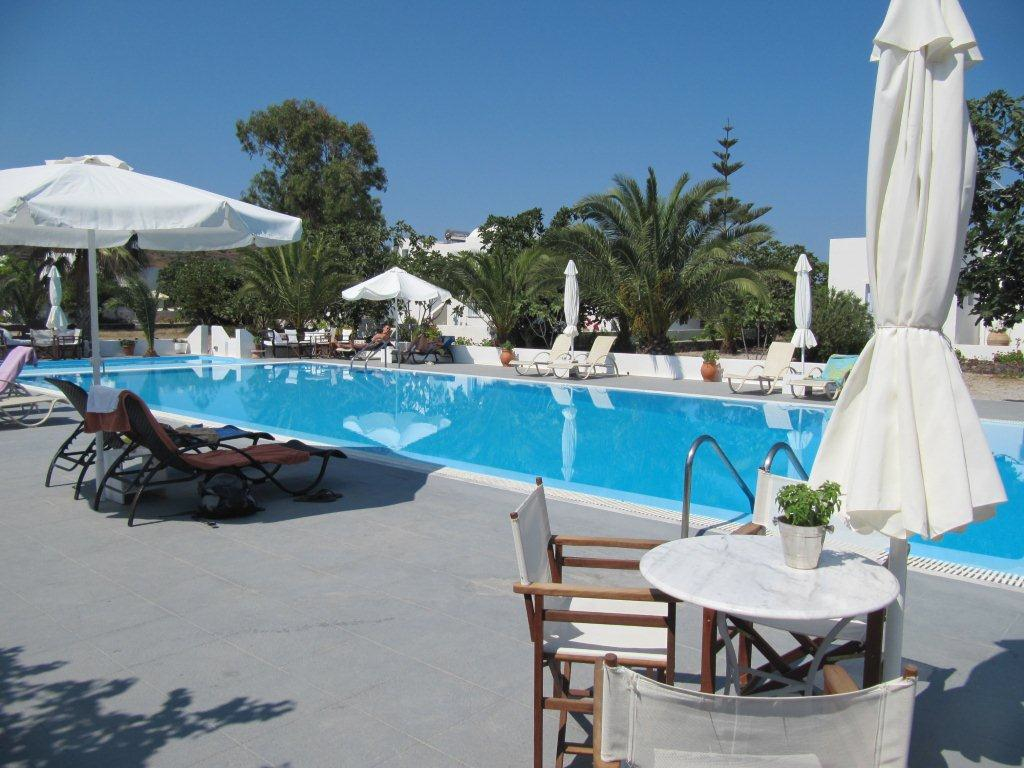 Our stay at Hotel Pelagos is amongst vineyards and gardens, providing a beautiful, relaxing setting in which to fully unwind. Lounge by the pool or take a short walk into the beautiful village of Oia, or the nearby beaches. In addition to a stunning location, the restaurant at Hotel Pelagos offers home grown fruit and vegetables of an amazing quality and taste due to its unique climate and volcanic soil. The kitchen garden, where fruit and vegetables are grown organically, produces a mouthwatering selection including cherry tomatoes, white aubergines, cucumbers, courgettes, grapes, figs, melons and watermelons. From the garden, to the kitchen, to your table – with utmost care and love.
More details about Hotel Pelagos can be found here.
[tab:ACTIVITY]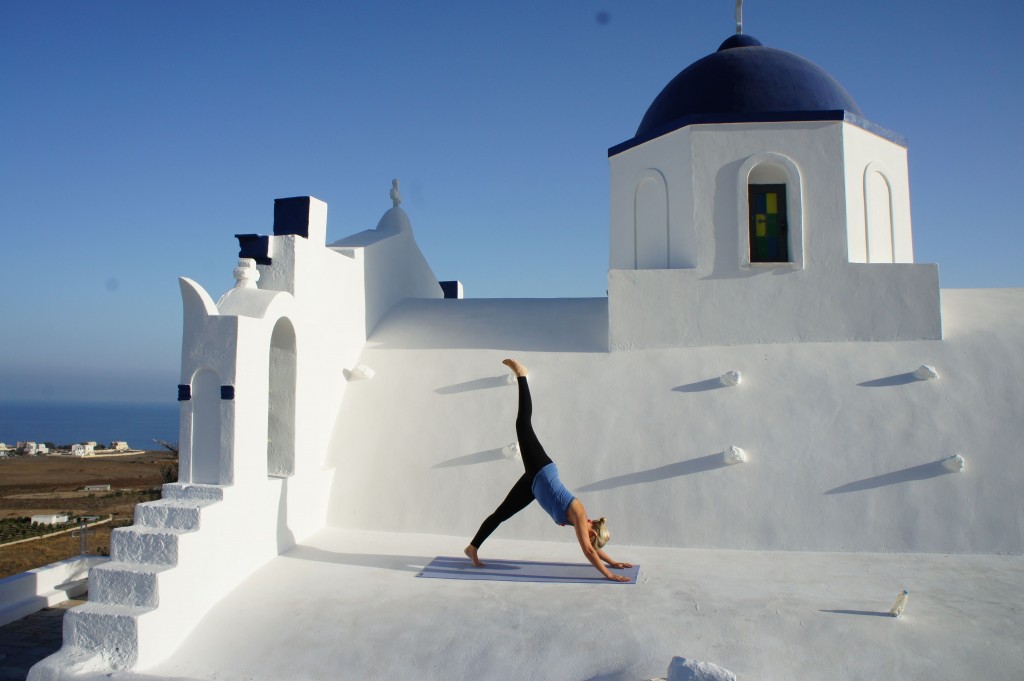 We offer two yoga sessions each day, one morning and one early evening. Each day is varied to ensure you have a truly relaxing experience, following an easy yogic flow.
A day could, therefore, include:
Waking up with the Greek sun, morning practice in the gentle shade of grape vines, a leisurely brunch before you lie by the stunning pool, take a swim or head down to the beach for the day, reading the book you have wanted to all year but not had the time.
You could visit Oia, a stunning town located on the volcanic hillside of Santorini, perfect for those who want to explore the Greek life further. In Oia you will find stunning shops and unique restaurants with delicious Greek cuisine as well as quaint coffee houses where you can enjoy Greek yogurt dripping with honey whilst watching the stunning view of the caldera; something not to be missed.
Enjoy the yummiest massage ever! It includes a natural salt scrub under the open sky, and a full deep tissue massage with your chosen aroma. Truly delicious… tempted???
We seal our day with yoga and meditation under the cooler Greek sun; digesting the day and your practice.
As the day closes we will enjoy healthy nourishing food prepared with love by our caring hosts; feeling utterly satisfied.
Additional activities include the opportunity to go for long walks, sail on the Aegean blue sea, hike the live volcano (an amazing experience!) or visit the volcanic hot springs. We also offer a day to a family run vineyard where you can enjoy yet more Greek cuisine and wine tasting.
This is your time off and we promise you an experience where you will be nourished in every way possible, giving you an experience to remember!
[tab:PHOTOS]

[tab:PRICE]
£699 per person (excluding flights). Please note, there is a single room supplement of £30 per day.
The Santorini Yoga Retreat includes:
7 night's bed and breakfast
1 group supper
First class yoga tuition
Meditation
Stunning settings
Unforgettable experiences and new friendships!
In addition activities which are available locally include:
Day trips, for example spa experience, diving, sea kayaking
Sailing
Wine tasting
One to one yoga
For further information or to make a booking
please contact us by 
email
 or telephone, 07812 052 742.
[tab:END]