YOGA + DIVING TOBAGO 18th – 25th September 2015
[tab:OVERVIEW]
Welcome to a yoga holiday with a difference! We invite you to live in harmony with the elements, a revitalising experience that will fill every cell in your body with energy and relaxation. Our professional team are delighted to offer you a unique and bespoke week where we don't expect anything from you, instead we let you decide what you'd like to do and we help to make it happen. You may have no yoga experience, or any diving experience. You might be experienced in both… to us that doesn't matter. We are here to help you enjoy the perfect holiday, spending your time as you want.
We will stay at Toucan Inn, on the South West of the island of Tobago. A short stroll from this boutique hotel the beautiful sandy beaches await you.
For further information or to make a booking please contact us by email or telephone, 07812 052 742.
[tab:LOCATION]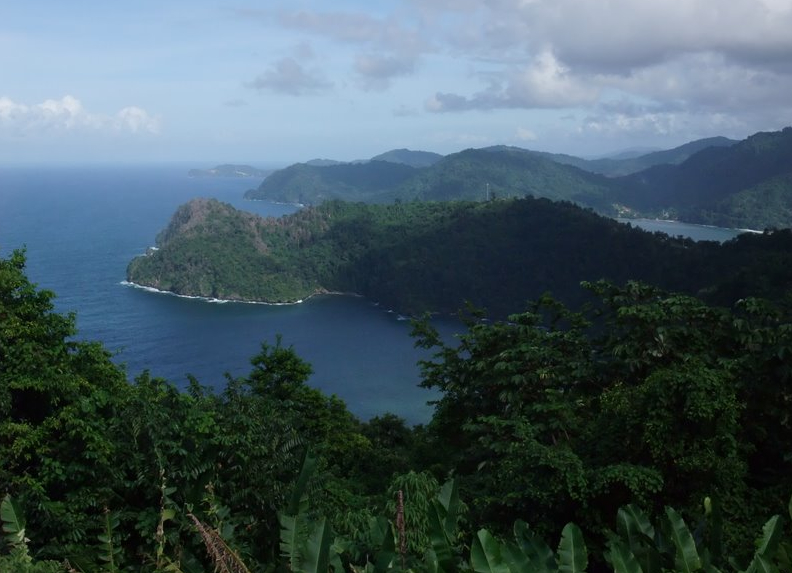 The two islands of Trinidad & Tobago are quite different. Trinidad, the larger, has an area of 1,864 square miles which dwarfs nearby Tobago, only 21 miles away, with its 116 square miles area.
Both islands have mountain ranges (more precisely 'hills' in the case of Tobago), rainforests, savannahs and, of course, the famous Caribbean coastlines along the north and east regions. Offshore are smaller islands and coral reefs. These combine to give Trinidad and Tobago the most diverse flora and fauna of all the Caribbean islands.
The capital of Trinidad is the Port of Spain, with a population of approximately 52,000. Meanwhile the total population of both islands amounts to 1,260,000. The southernmost of the Caribbean islands, and only 10 kilometres (7 miles) off the Venezuelan coast, the twin islands of Trinidad and Tobago geologically are an extension of South America. They are therefore an ideal introduction to the wildlife of the neo-tropics and what better way to watch animals than in a year-round temperature of 29° C (83° F), from beautiful beaches with tropical palms or in mountains with lush, verdant rainforests!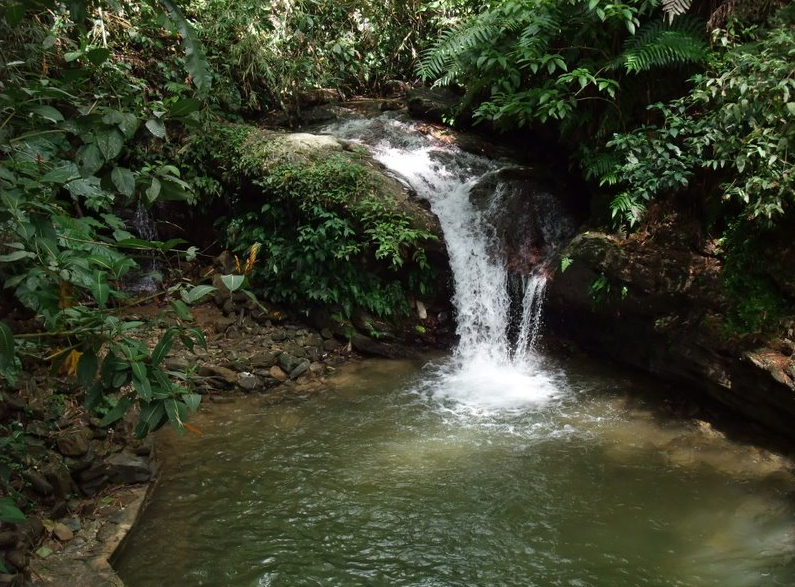 [tab:ACTIVITY]
Day 1: Arrive at Toucan Inn. 18.00 meet for opening dinner at Toucan Inn's restaurant, Bonkers.
Day 2-6:
8.00-9.30 am: Morning yoga practice, including breath work and relaxation, setting you up for the week, finding your flow. The day is then free for you to enjoy a delicious lunch around the pool or explore the local, sun-drenched beaches. Private, bespoke yoga sessions (at no extra charge) can be booked to suit your needs.
5.00-7.30 pm: Meditation enjoying the most stunning sunsets, including breath work, yoga and relaxation. The rest of the evening is free for you to spend at your leisure.
Day 7:
7.00-9.00 am: Sunrise meditation, yoga and relaxation. Followed by breakfast and free time to exlore. Bespoke and private yoga available to book.
Day 8:
7.00-9.00 am: Sunrise meditation, yoga and relaxation, rounding up the week, allowing for reflection, digestion and integration of what the week has offered you. Closing meditation.
Gathering of the team while enjoying a delicious brunch on the restaurant terrace before transfer to Tobago Airport.
Tobago is an island with so much to offer and is a great destination for your non-diving friends or families. You can relax around the fresh water pool or take a short stroll from the hotel to Store Bay Beach; walk just a little further to the famous Pigeon Point Beach where your white sandy beach awaits.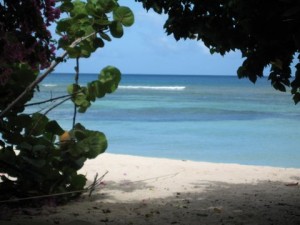 The Tobago Forest Reserve claims to be the oldest protected forests in the Western world. This forested area has great many species of birds, mammals, frogs, snakes and butterflies.
R&Sea Divers will show you there's also plenty to see beneath the water. The nutrient rich waters surrounding Tobago attract a wide variety of coral and fish life. Jewel-toned Creole Wrasse chase each other through schools of silvery Bermuda Chub over reefs covered with multi-coloured corals and sponges twisted and sculpted by the currents. Under the ledges, Morays and Nurse Sharks can often be seen.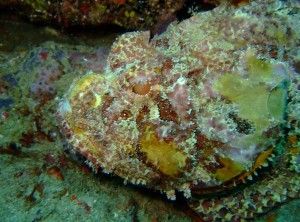 Although much of the scuba diving here in Tobago is drift diving, the currents vary in strength from site to site, so there is something here for every experience level from novice to the most experienced scuba diver.
[tab:ACCOMMODATION]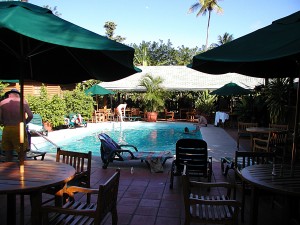 Toucan Inn is a small and friendly 20 room hotel with teakwood Caribbean Style décor set amidst an oasis of lush tropical gardens. It has a wonderfully relaxed ambience, keeping guests coming back for more.
Accommodation includes a choice of a cabana round the pool or a room around the garden. Both have en suite bathrooms and air conditioning.
From the moment you step through the archway at Toucan Inn you will be made to feel welcome.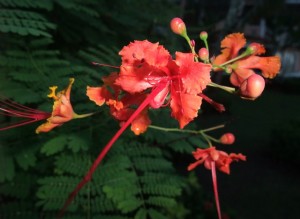 Kariwak is an alternative accommodation option at an additional cost. Surrender to the experience fully by taking advantage of their quiet, open spaces… the Jacuzzi, the hammocks, the gardens. Soothe your soul with ancient and new mind-body practices from meditation to massage.
[tab:PHOTOS]
[tab:PRICE]
Prices are per person, based as a twin share, as follows:
1 - 8th April 2015

Toucan Inn From £1085 pp Kariwak Village From £1280 pp

18 – 25 September 2015

Toucan Inn From £985 pp Kariwak Village From £1180 pp
10 Dive package: £260
Please note: Flight availability and prices are for the first 10 places booked. Anyone booking after this, the price is subject to change.
For further information or to make a booking please contact us by email or telephone, 07812 052 742.